A tradition of craftsmanship. A strong sense of food, family, and celebration. Kinship with the earth and its fruits. These are the characteristics that are often used to describe Italy in general – and Italian wines in particular. They have also been the mantra of Angelini Wines since its founding in 1986. The company imports wines from its own family vineyard in Italy and about three-dozen other suppliers of great regional Italian wines. The company is also a wholesaler for wines and liquors from other European nations and Japan.However, the family and its mainstay products are Italian.
What makes Italian wine truly stand out? How does an importer of Italian wine compete with wines from the U.S. and all over the globe? Connecticut Beverage Journal contributor Bob Sample sat down with Angelini Wines CEO Julius Angelini and COO Ron Plebiscito recently at the company's office in Centerbrook, Conn.
YOU AND YOUR BROTHER, PAUL, WERE ORIGINALLY TRAINED AS ENGINEERS. HOW DID YOU GO FROM THAT TO THE WINE BUSINESS?
Angelini: My grandfather owned a small vineyard in Pergola, a town in the Marche province of Italy. It is roughly on the same latitude as Florence, but in the eastern part of the country. My brother and I were born in New London, but my parents decided to return to Pergola in 1967. My dad had a degree in agriculture, so he bought my grandfather's farm and ran it for the next five years. In the early 1970s there was quite a bit of political instability in Italy, so we returned to New London in 1972. Paul and I both graduated from high school in New London and attended Northeastern University in Boston as engineering majors. I majored in chemical engineering, Paul in electrical engineering. My dad began working for Electric Boat in Groton, where he met Ron, a chemist in one of the labs. For all of us, wine started as a hobby. Three or four families would chip in and buy a barrel of wine from our region of Italy, then bring it back to the U.S. In college, I took classes in wine tasting. My brother and I began to think of beginning a wine-import business some day.
Plebiscito: For me, getting into this business happened quite by accident. Mr. Angelini would often go to Italy for the last week or two each August, and stay into part of September. He would bring back lots of wine samples for me to try, because he knew I liked wine. I used to kid him about starting a winery. In 1986 he announced that he was retiring. A couple of days before he left, he told me his sons Julius and Paul were planning to start a wine-imports business. He invited me to join them – and I decided to take him up on it.
HAVING A FAMILY VINEYARD NO DOUBT WAS BENEFICIAL. HOW ELSE DID YOUR FAMILY TIES HELP YOU?
Angelini: My dad had some great connections in Italy, which helped us immensely. Italy is very relationship oriented: People all want to know that you're the real deal, an honest company that will be around… and not just three guys with a truck. One thing we've stuck with from the start is staying true to our roots. The way we see it, traditional wines should represent the true characteristics of the grapes from which they were derived, without a lot of other flavors coming into the mix. For this reason, we've focused entirely on Italian imports and have not become involved in any New World wines. We deliberately emphasize the smallness and individuality of our products – and this appeals to today's consumer in a big way.
HOW DO YOU CHOOSE WHICH WINES TO DISTRIBUTE?
Angelini: We don't just taste samples – we'll go into the wineries, get to know the winemakers, and walk around the vineyards. My father had a stroke a few years back but last spring he actually visited a vineyard for me. He walked around the entire vineyard, making sure the vines had been properly cut back. Pruning makes for better grapes and better wine. Because of this knowledge and commitment, the winemakers know our products and they know us. So, they don't try to sell us anything we're not going to like.
Plebiscito: In today's winemaking world, there are a lot of shortcuts that can be taken at every step of the way to increase volume. The commodities that make up wine are all traded on a public exchange in Italy, and we'll know something is amiss if a vendor offers us a supply that's significantly below market. A distributor who lacks this knowledge or doesn't do the due diligence will end up with an inferior product.Retailers appreciate this, too, because our price points are comparable to the big producers. They know they are getting something truly special and authentic to sell to their customers – without it costing more.
FOR PACKAGE STORES, WHAT ARE THE OTHER MAIN SELLING POINTS OF ITALIAN WINES?
Angelini: Italy regulates winemaking very strictly, even down to the tonnage of grapes produced. If I make 1,000 bottles, the government will issue me 1,000 tags to put on those bottles – nothing more, nothing less. You don't see the same attention to detail in the U.S. and other winemaking countries. What does that mean for the package store or for the consumer? Italian wine is made the right way by people who take wine very, very seriously. It also means they aren't novices – they know something about making wine and the nuances that go into it.
WHERE ARE MOST OF YOUR PRODUCTS SOLD AND CONSUMED?
Angelini: Boston to Washington is our sweet spot and our company's growth has paralleled the growth in restaurants in New England. I worked in Boston during the 1980s for a consulting firm that designed pharmaceutical plants. It's hard to believe now, but there used to be just three or four really good restaurants where we could take our clients out to dinner. In Boston! That has since changed, in a big way, and now you find really great restaurants all over New England. We've now begun to grow into some of the big cities down south – in Texas, in particular.
THERE ARE LOTS AND LOTS OF WINES AVAILABLE TO CONSUMERS. HOW DO YOU GET STORES – AND CONSUMERS – ACQUAINTED WITH YOUR PRODUCT?
Angelini: We want people to taste our wine, and we've always been big on demonstrations and sampling. For quite some time, Ron, Paul and I would host wine dinners in New Haven and Stamford. People began to follow us – we'd see them in Stamford, and they'd tell us that they had sampled our wine at a restaurant in New Haven. That told us what we were doing was working very well, in building a following. When the recession hit a couple of years ago, people cut back in a big way on their dining out and we stopped doing the wine dinners.
We're now looking to form a new Club Angelini, which will be hosted on our company's website. We'll have mingling events at bars and restaurants, and serve hors d'oeuvres with our wine…a happy hour of sorts. It will give people something to do, and people are always hungry for information on a new product. They also like seeing that there is a real family that runs Angelini wines. This is also much easier on restaurant owners: having a full-blown wine dinner is much more time consuming on their end.
HOW HAVE SALES BEEN IN THE LAST FEW YEARS – RECESSION AND POST-RECESSION?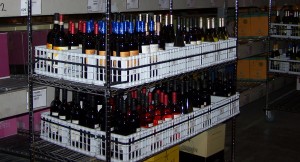 Angelini: We've continued to grow but the recession did have an impact. We're now selling more of our less-expensive wines. In addition, we would probably be in more than 18 states by now had it not been for the recession. We didn't get hurt as badly as we might have been because we've always operated conservatively and efficiently. In addition, a lot of other companies are now gone, so we have fewer competitors. Take a look at the lists in The Connecticut Beverage Journal: a lot of companies have come and gone over the years.
DO YOU HAVE NEW PRODUCTS IN THE PIPELINE? IS THERE ANYTHING YOU PLAN TO DO DIFFERENTLY?
Angelini: We take stock of our business every few years and add new products where we feel there's a good market for them. We've started to focus more on boutique-style wines – wines produced in small, limited batches. We believe this is the best strategy for a small company such as ours to pursue. For one thing, it's difficult for a small importer to compete with a Constellation, a Diageo, or some other big importer.
Even more important, this is what the public wants. You've seen the trend towards microbreweries – the same is true with wine consumption. People experiment with new things and there is a sense with smaller brands that they are going back to nature. Because we are small, we can bring in just three or four pallets of something truly special, knowing it will all sell. The big importers can't do that.
Angelini Pergola Rosso is a great example. Only seven of us in the whole world make this wine, and until now it's never been consumed outside Marche province. We brought it over and it's done very well. Just think: Pergola is just one little town among thousands of little towns in Italy that all have the same thing: a local favorite variety of wine that outsiders just don't know about. That's a great opportunity for us and for the wine business.
By Bob Sample
You can view the original post here.